CONTACT US:
4010 W. Douglas Ave.
Milwaukee, WI 53209
PHONE (414) 578-8615
E MAIL:
info@sterntanning.com

Vellum & Parchment for Furnishings, Writing, and Artwork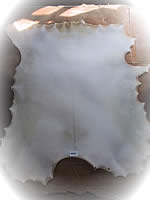 We use only U.S. domestic skins: GOAT, KIP, CALF, and STEER. Our primary focus is to provide a premium quality hide, clean, and uniform in thickness and color. We have the size and thickness to serve every customer's needs.
Our GOAT hides make beautiful table tops, cabinet doors, and wall panels.
KIP and CALF hides make perfect lampshades.
WHITE and AMBER TRANSLUCENT RAWHIDE STEER is available to the saddle industry. Hides are available as whole hides or sides.
SHEEPSKIN PARCHMENT is also available.
Click here for Vellum & Parchment Pricelist
| | |
| --- | --- |
| Foss Lampshade | O.G.Z. Ltd |
| O.G.Z. Ltd | Vellum for Writing |